Theft
Proof
Provide the ultimate protection from thieves

Easy
Install
Simple installation to provide superior safety and security

Impact
Tested
Independently tested to withstand aggressive attacks and substantial forces

Protect
Your Property
Engineered and manufactured in the UK, built to perform
Essential vehicle security
Large Retractable bollard
The ultra-strong PB-2 steel bollard is theft-proof, corrosion-proof and guaranteed to perform. The retractable bollard can be secured in place in seconds. Its innovative tamper-proof fixings will give you peace of mind that your valuable vehicle is protected at all times.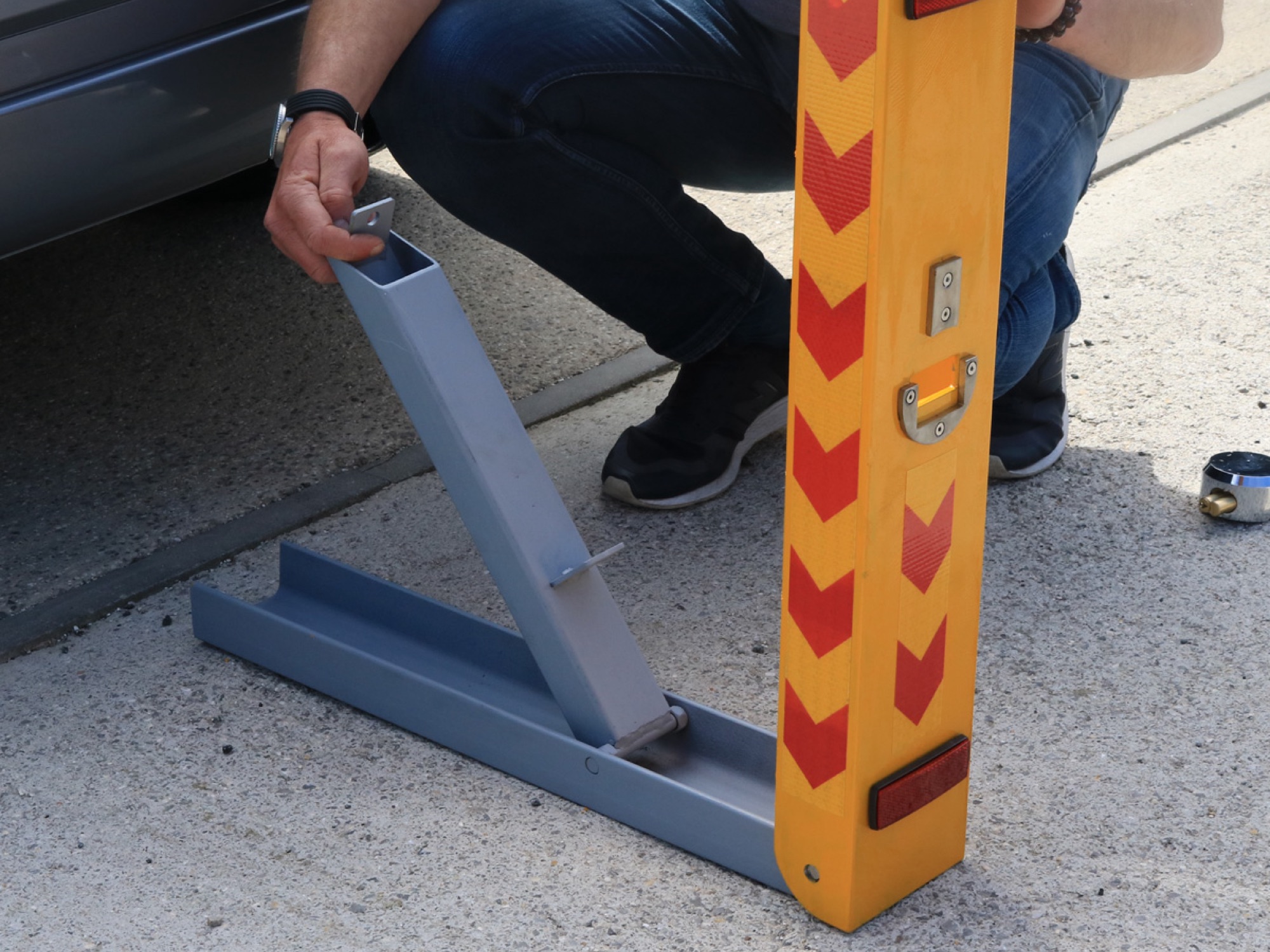 Quick and easy to install,
Fitted in minutes
Securian products have been designed for easy installation, we supply all the necessary fitments that you will need to secure and protect your asset day or night.
Download the PB-2 installation manual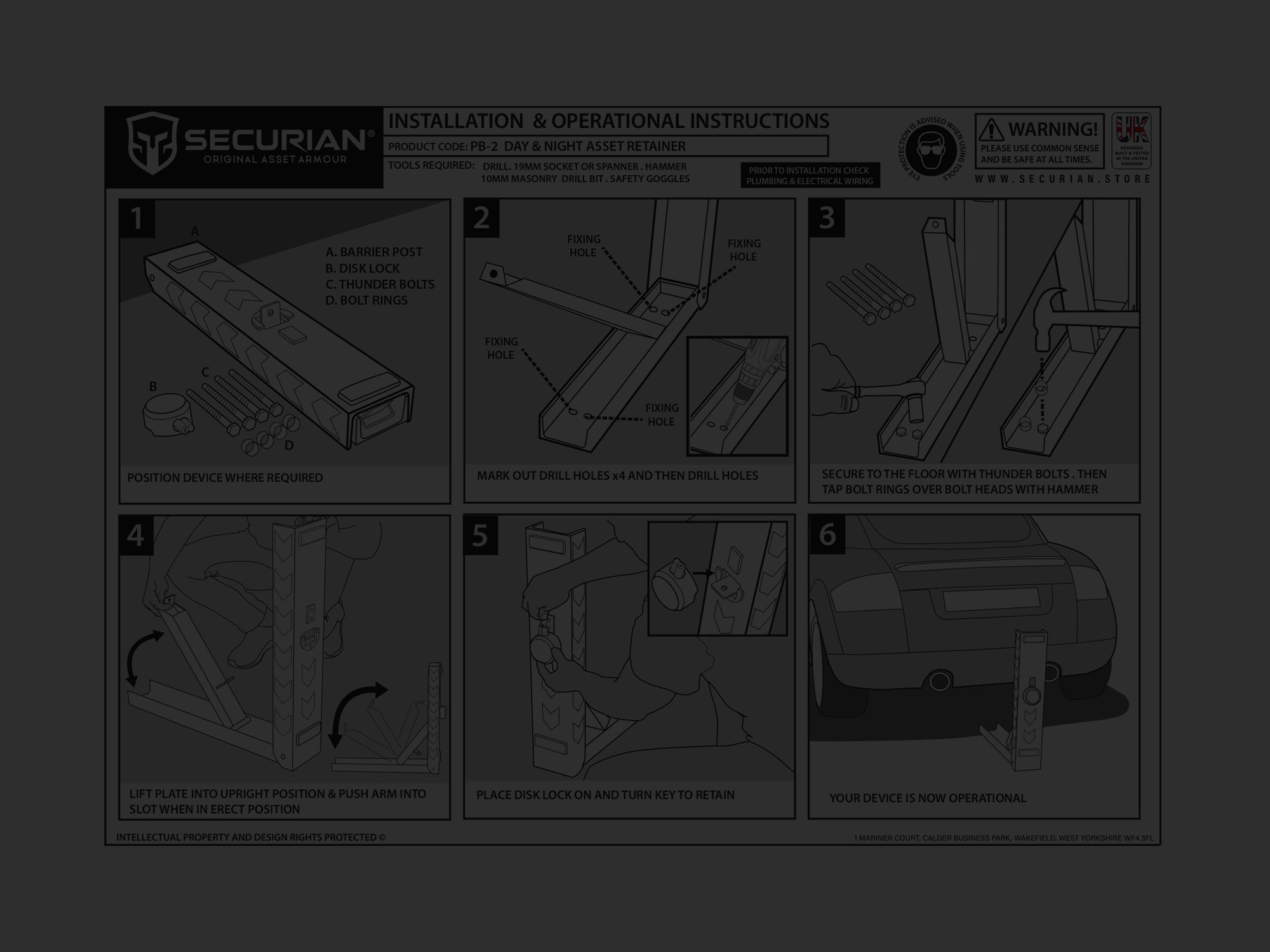 Like its smaller brother the PB-1, it's a superior quality removable parking post that provides an almost impenetrable barrier to car thieves.
The Securian PB-2 is perfect for use at home. Multiple Securian PB–2's can be used as car park bollards to protect commercial parking spaces.  Invest in the ultimate in large retractable driveway bollards.
The Securian PB-2 is an exceptional quality removable bollard that has been designed, engineered, tested and assembled in the UK from the highest quality components and materials. Unlike cheaper alternatives, the Securian PB-2 is built from corrosion-free metals that will stand up to all weathers and seasons. Come rain or shine, the Securian PB-2 will withstand years of years of use as domestic or commercial car park barriers.
The Securian PB-2 can be installed on any flat driveway or parking space by a competent person. The unit is bolted directly to the floor in four places which ensures it's stable if attacked from any angle. Installation of the Securian PB-2 is also much cheaper and easier than other retractable bollards or telescopic bollards that may need to be cemented in place.
There are no compromises on security, with the Securian PB2 able to withstand the attack forces used in a typical vehicle theft attempt. In most cases, potential thieves will see the fluorescent-coloured protection barrier and move on to easier targets.
Securing the unit in place is a high-quality stainless steel lock. The rust-proof lock comes with two sets of keys and can be operated in seconds.
Securian PB-2 features
Easy to install by a competent person.
Pull-up and secures in seconds.
Built from high-specification, corrosion-free materials.
Can withstand significant attack forces.
High-visibility provides driver warning.
L 750mm, W 125mm, H 85mm.
Height when activated 750mm.
Weight 18kg.
Ultimate protection
The Securian PB-2 will provide long-lasting security for your car. The unit is secured to a solid concrete floor with four thunder bolts which are covered in bolt rings. Unless criminals come armed with industrial equipment, the barrier – and your car – aren't going anywhere.
The innovative Securian PB-2 is designed for speedy and straightforward operation. The multi-point fixing slides into place in seconds, and at just 18kg can be operated by drivers of all ages. The barrier is held in place by an extendable security arm, which folds away when the unit isn't in use. This is much more convenient and attractive than bulky removable security bollards.
What's in the box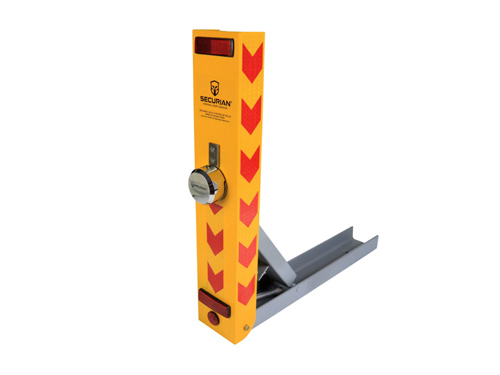 The Securian PB-2 retractable bollard comes with instructions on how to securely fit it.
In the box you'll find:
High-quality removable steel post.
Stainless steel disc lock with keys.
4 x thunder bolts.
4 x bolt rings.
Installation instructions, including recommendations for tools, drill bit/hole sizes etc.
Length: 750mm
Width: 125mm
Height: 85mm
Height Activated: 750mm
Weight: 18kg
Will the Securian PB-2 fit on my driveway?
Securian PB-2 removable bollard installation is simple and straightforward. The surface needs to be flat and level to affix the four bolts. The security post requires a flat service to be installed and operated correctly.
How big is the Securian PB-2?
The Securian PB-2 is 750mm high when activated and secured in place. If you're looking for a smaller removable bollard, check out the Securian PB-1.
Can I install the Securian PB-2 myself?
You'll find the instructions and fixings you need to install the Securian PB-2 in the box. While installation is straightforward, we recommend that the Securian PB-2 folding parking bollard is installed by a competent professional.
How secure is the Securian PB-2?
The Securian PB-2 is an exceptional quality vehicles theft protection system for use domestically and commercially.
Once installed, the heavy-duty Securian PB-2 is designed to withstand the typical forces exerted during a theft attempt, providing anti-ram raid protection.
In most cases,  the Securian PB-2 provides a strong visual deterrent to ensure that most criminals won't even bother and will move on to another target instead of attempting to steal your car.