Asset security
Which bike locks are best | Securian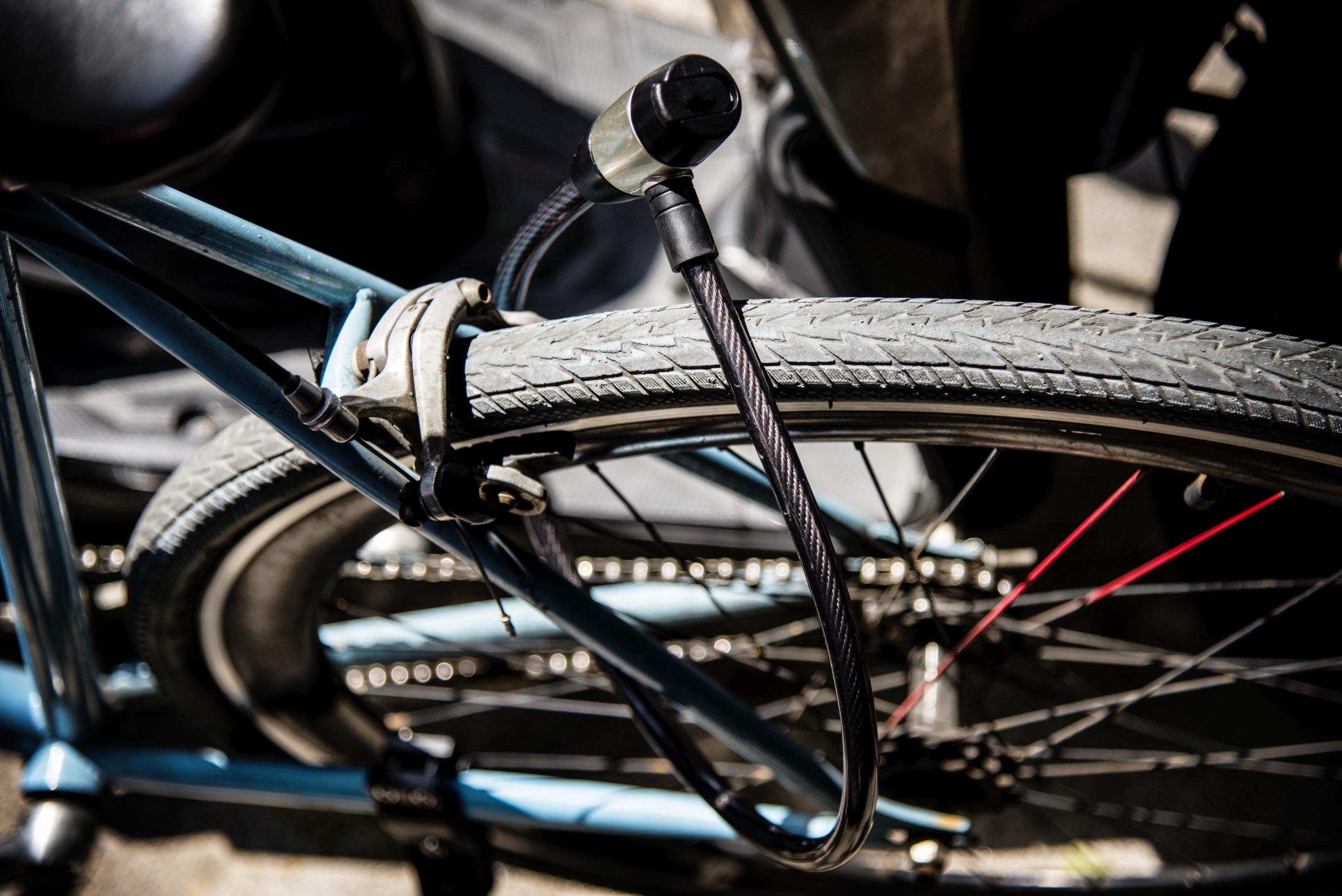 October 31, 2022
Bike theft is a massive problem, with 45 bikes an hour stolen across the UK. When buying a new bike, every cyclist asks the same question: which bike locks are best? Look in any bike shop or online and you'll see D-locks, chain-locks, Flexi-locks, combination locks and more. So, which is the safest, and which should you buy?
In this guide, we explain the different types of bike locks on the market and explain some of the factors that go into making a lock tough. By the end, you'll know which bike lock is the best. (TLDR, you can buy the best lock from Securian here.)
Why lock up your bike (and how much to spend?)
If you are leaving your bike for any period of time, you should lock it. Why? Because bikes are easy to steal and even easier to sell. The likelihood of you ever seeing your bike again is pretty much zero.
So, you need a lock. The next question is, how much to spend on a bike lock? Conventional wisdom is you spend 10% of the cost of your bike.
Thankfully, when the average road bike or mountain bike costs £1200, you don't need to spend that much. In fact, you can get a high-security D lock and cable for under £25.
Investing in a bike lock is important to protect your bike. It's also a clear sign you've taken security seriously, which means your insurance company is more likely to pay out if your bike is stolen.
Given enough time, an experienced bike thief can probably break through every type of lock. While bike locks offer varying levels of security, none is 100% theft-proof (whatever their security ratings). For peace of mind, you should buy the best lock that you can afford, but even those with a sold secure gold rating can be broken if a thief wants to.
What types of bike locks are there?
Bike locks can be split into three categories: cable locks, chain locks and D-Locks. Here's what they are, how they work, and why they could be a suitable solution for you.
Cable locks
Cable locks are lightweight, easy to carry and simple to fit. You'll find cable locks costing just a few pounds. The locking mechanism can either be a key or a combination. Cables themselves can be threaded through wheels and frames to secure them to bike racks or other locking points, such as fences or gates.
The portability and price of a cable lock is appealing, but they're low-security, making your bike simple to steal. Experienced thieves (and even pretty amateur ones) can snap a cable lock, or cut through it in seconds using bolt cutters or an angle grinder.
Cable locks offer almost no protection, and won't deter any thief. They're cheap, but you won't be cheerful when you return to an empty bike rack.
You don't need to be an expert at lock picking to break most cable locks. A cable lock is also unlikely to be looked upon favourably by your insurance company, with many refusing to pay out if your bike is stolen.
You have been warned…
Chain locks
Chain locks are a step-up in security, and can provide greater protection. Like cable locks, chain locks can use combination locks, key locks, or high-quality padlocks.
Chain locks can be looped around any frame, or through the wheels and provide a massive sign to thieves that you're serious about security.
Chain locks are only as tough as your locking mechanism, so investing in a high-quality lock and a chain is a must. Chain locks are super tough and look the business, which means many thieves will simply move on to a different target.
The downside of a chain lock is its size and weight. You'll struggle to stick a chain lock in a backpack! Most people will use chain locks at home, in a garage or dedicated bike storage. You can secure a chain to a rack, anchor point or any other fixed object.
Securian's chain lock is one of the toughest locks around, with the hardwearing and heavyweight chain theft proof. It comes complete with a premium padlock to ensure your bike isn't going anywhere, no matter how hard a thief tries to take it!
D-Locks
D-Locks are probably the most popular bike locks available. A D-lock is made up of two parts, a D-shaped bar that is threaded through the bike frame or wheels and a locking bar.
D-locks can have key-operated and combination locking mechanisms. You'll often find D-Locks come sold with a cable that can be threaded through the front wheel as well, ensuring every part of your bike is protected from theft. Securian's D-Lock is an affordable lock that offers unrivalled protection at an amazing price.
D-Locks are portable and practical, and can easily be slipped into a backpack or even secured to your bike frame (using frame mounts). So, what are the downsides? Cheap D-locks can have poor quality mechanisms that can be forced open or snapped, in some cases simply by using brute force.
The solution is to invest in a high-security D lock. D-locks secured through the frame can leave your quick release wheels vulnerable to theft (have you ever seen a frame stranded on a bike rack?), so you should also buy and use a cable. Thankfully, many D-locks come packaged with a high-quality cable as well.
Which bike lock is best?
OK, so the answer you've all been waiting for. Here's which bike lock is best for each situation:
Cable locks: We don't advise you to use a cable lock for anything, as in many cases, they're easy to break and offer weak protection. However, one situation where they're probably best is when your bike is attached to a car rack or somewhere where your bike is in clear sight at all times.
Chain locks: Chain locks offer huge levels or protection for the price, but they're heavy – which is why we recommend using them in garages, bike storage or at home. To use a chain lock, you'll probably want to install a dedicated bike anchor point.
D-Lock: We recommend using a D-lock as your everyday, out-and-about security protection. Be sure to invest in a high-quality lock and a cable. When securing your bike to a rack (or other object) thread the D-Lock through the frame. Never just secure the wheels!
Buy a bike lock from Securian
At Securian, we've developed a range of bike locks that deliver the ultimate in cycle security. Every bike lock is theft proof, weather resistant, easy to install and impact tested.
Designed in the UK and built using the best quality materials, a Securian bike lock is an investment in bike security. You can shop the full range online, with free shipping on all orders. There are no excuses for not investing in the best bike security.