Home Security
What to do if your house has been robbed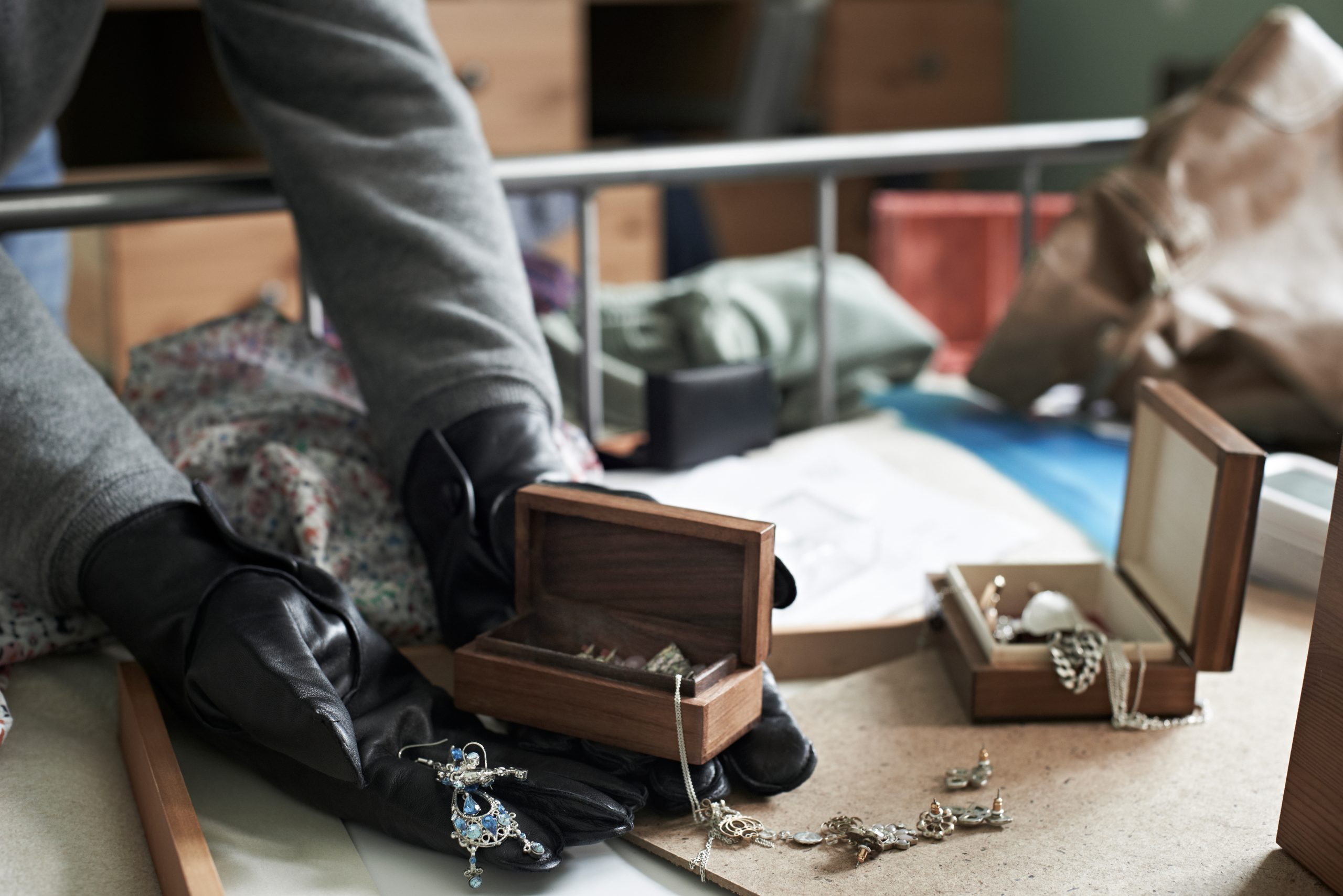 January 19, 2023
Finding your home has been burgled can impact you financially and emotionally. Smashed windows and stolen property are often second to the damage done personally. In the end, 1-in-10 people move to a different home after experiencing a break-in.
If you come home and discover your home has been broken into, you mustn't start clearing up. In fact, you could destroy valuable evidence that could lead to a criminal conviction. So what should you do? This article provides a step-by-step breakdown of what to do if you've been robbed. We also offer some evidence-based advice on protecting your home to prevent it from happening again.
Step-by-step breakdown if you've been robbed
When you return home, you may notice the door is ajar, glass on the floor, or other signs of a break-in. Or you may only notice your house has been burgled when you enter the front door. As soon as you're aware you've been robbed, here's what you need to do:
When you return home, you may notice the door is ajar, glass on the floor, or other signs of a break-in. Or you may only notice your house has been burgled when you enter the front door. As soon as you're aware you've been robbed, here's what you need to do:
Go somewhere safe – If someone is still in your property, get out as quickly as possible and find somewhere safe. In no circumstances should you attempt to challenge a burglar or use physical force to restrain them. It's simply not safe to do so.
Call the police – If someone is still inside your property, call 999. If it's clear, call 101. Unfortunately, while you may get an answer to your call quickly, you may need to wait several hours for a visit from the police. They'll provide you with a crime reference number and put you in touch with victim support. They'll also ask about the stolen items and check your damaged property for any evidence.
Don't move or touch anything (it could be important) – While it may be tempting to begin picking up broken glass or searching through the house, it's a crime scene, and you must resist. The thief may have left crucial forensic evidence, including fingerprints, at the scene. If you start tidying up or touching things, you could destroy evidence, meaning they're not brought to justice. Leave the tidy up until the police say it's OK.
Contact anyone affected (including cancelling cards) – You should let anyone affected by the robbery know (including family members, friends, and housemates). If you believe you have had any credit or debit cards stolen or a passport or driving licence, you must cancel them as soon as possible. This will ensure that no money is stolen from your accounts and that the process of replacing your passport and driving license can begin immediately.
Take notes and list all stolen goods – It's a good idea to grab a notepad and pen and walk through each room in the house. You can help the police by identifying anything that's been moved, smashed, or damaged. Next, walk through each room slowly and methodically, listing everything that you can see has been stolen. Depending on the size of your home, this could take some time – but you must do it properly. Missing something and failing to list it, could cause you issues in the future. This process can be emotionally draining and upset you, so take regular breaks and ask for help if you need it.
Contact your insurance company – We'll assume you have home and contents insurance (if not, sort it TODAY). Your insurance company will ask you some questions and spring into action. Their first job will be to secure your property. They may arrange a glazier, locksmith, or another tradesperson to ensure your home is safe. Once this has been achieved, you'll start claiming your content. This may take some time – sometimes up to 180 days. At this point, the detailed list you made will be essential. We're not going to go through the home insurance claim process here, but trust us, it's not always quick, but it is essential. Hopefully, you'll receive replacement items or a full settlement as soon as possible.
Speak to someone for support – The psychological impact of a robbery can lead to short-term damage and long-term impact. While you may not experience any or all of these, if you've been the victim of a robbery, you may benefit from the support of a friend, family member, or loved one. Don't be afraid to reach out for help.
How to prevent your house from being robbed
Do burglars return to the scene of the crime? Yes, says the Met Police – so you must improve your security. In some cases, your insurance company will make recommendations (such as updating your locks or securing your garden). In other cases, it's up to you.
One effective tactic is approaching your property not as a resident but as a robber. First, look for any potential opportunities a thief could take and act to remove them if possible. Next, identify where you can add extra security measures and take security precautions.
Here are some proven ways to prevent your house from being robbed:
Hide away all valuables – Leaving high-value items on show can encourage a criminal to attempt to enter your home. Avoid leaving laptops, phones, wallets, car keys, and other tempting items in full view. Also, don't boast about new large purchases or advertise you're away from your home on social media.
Lock all doors and windows – Burglars are searching for an easy way to enter your property and will often start by testing windows and doors. Before leaving your home, ensure that every door and window is locked – even if you're going for just a few minutes.
Secure the rear of your property – Thieves will use the relative seclusion of your back garden to work. Consider adding extra security to your back garden, including a rear gate lock (if you have one). Replace any worn-out or missing fence panels, and use shrubs, plants, and garden ornaments to obstruct access to the rear of your home.
Add extra door security –Forcing open french and patio doors is a common way for criminals to access your home, but the solution is simple and cheap. Securian's range of French door and patio door bars present an almost impossible-to-break barrier whether you're inside your home or away from it. If your home has been broken into before, you may benefit from the extra peace of mind and protection provided by a door jammer. These heavyweight devices slide behind any door and will stop it from being opened, regardless of how hard someone pushes.
Invest in home security tech – Security lights, connected doorbells, and burglar alarm systems are all effective ways to protect your property. They also provide a clear visual deterrent to thieves. While such devices aren't cheap, they can sometimes lower your premiums. You should speak to your insurance company before investing in high-cost security devices, such as a burglar alarm.
Summary
The number of burglaries in the UK is falling, which is positive news. Even so, there are still over 700 burglaries each day, many of which could have been prevented if people had secured their properties. If you are the victim of a home robbery, follow our advice, and you'll be able to begin rebuilding your life as soon as possible. Even better, follow our guidance on preventing your house from being targeted by criminals in the first place.