Home Security
Securing a Door Against Forced Entry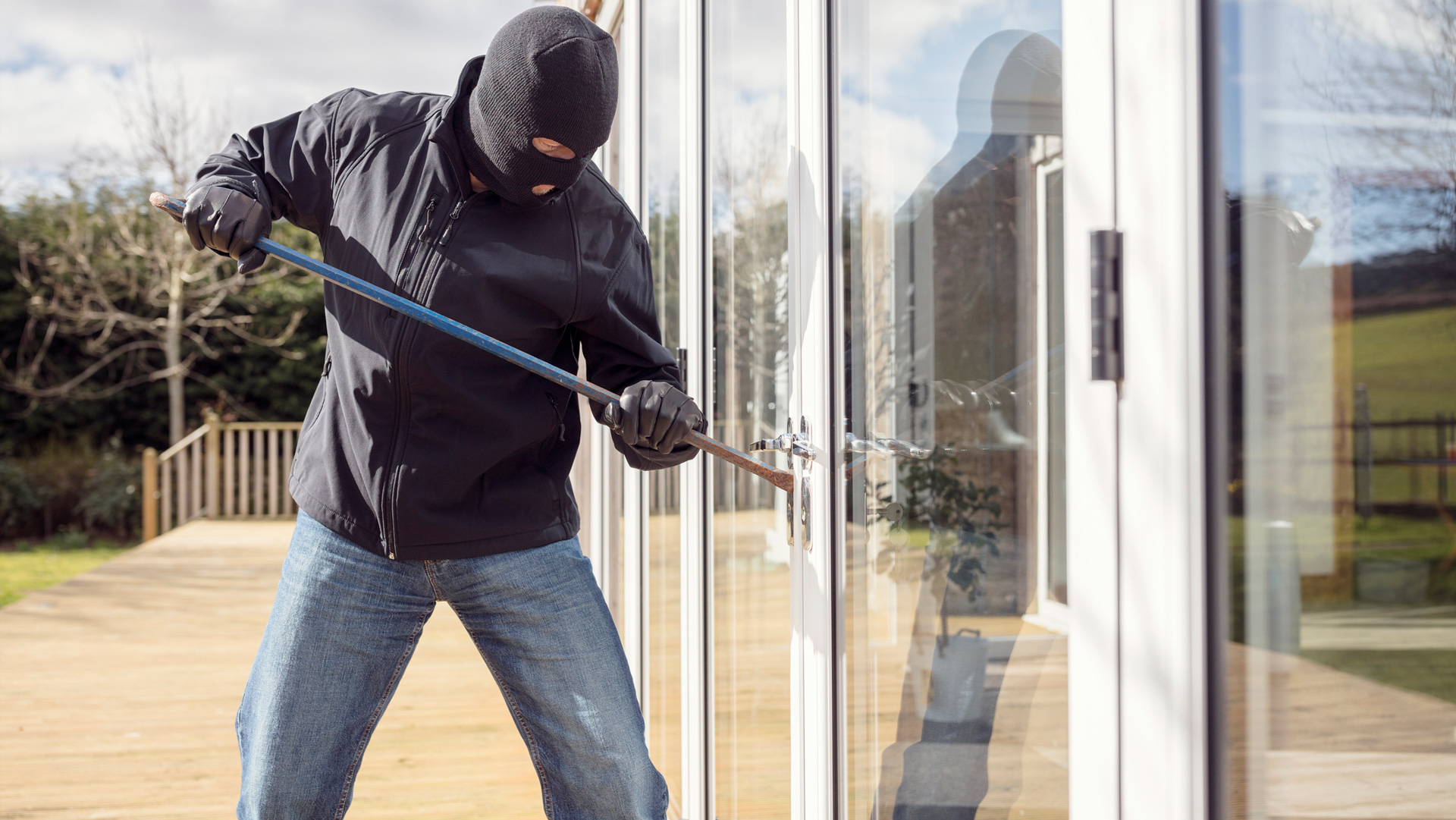 January 15, 2021
Forced entry is the most common type of burglary in the UK – and it's getting worse every year. According to the most recent Government statistics, an external door was damaged in 57% of attacks, and door locks in a further 22% of cases. Canny criminals will look for weak points in your property's defences, ruthlessly taking advantage of sub-standard security locks and dodgy doors.
If you're worried about forced entry at your home, office or other premises, then this guide on how to secure a door against forced entry is for you.
Check your locks
Any exterior door is a potential entry point for an intruder, so you should protect them all. The first step is to ensure that your locks are up to the job.
Your front door, rear door and patio door locks should be manufactured to the BS3621 standard. BS3621 locks are classified as thief-resistant by the British Standards Institute. Locks that adhere to the BSI standard are tested against common burglary techniques, such as drilling and lock picking. They won't prevent a committed criminal from gaining entry to your property, but they will make it as difficult as possible.
It's simple to tell if your lock adheres to the standard by checking the faceplate of your lock. You should see the familiar British Standard Kitemark and the standard number (hopefully BS3621).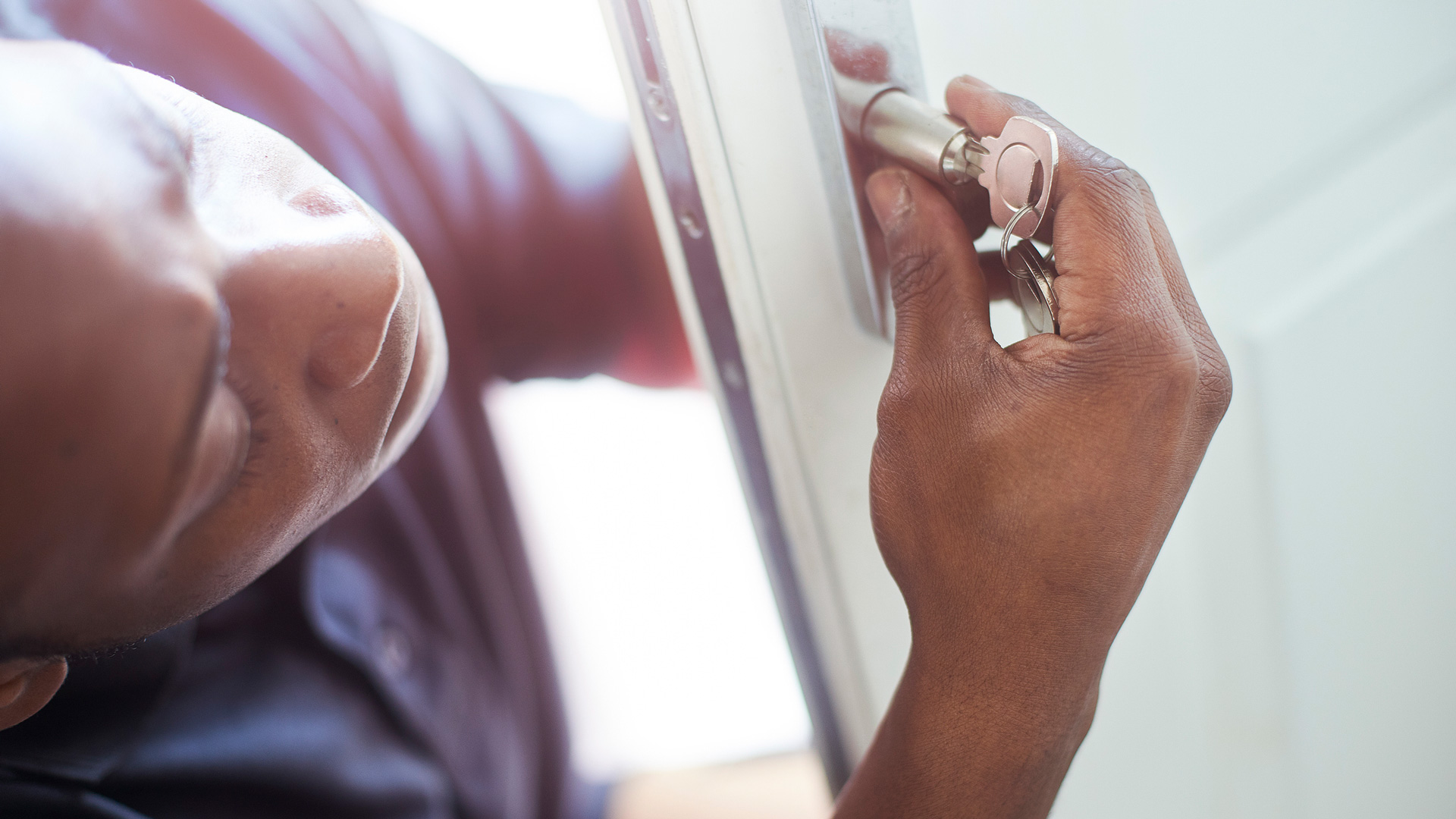 Your insurance company will usually demand that BSI-rated deadbolt locks and cylinder locks are fitted to your doors. If you don't have them installed throughout the doors on your property, then your policy could be invalid. So now is the time to check.
As well as the quality of existing locks, you should check the condition of all door frames and door jams. If these are worn out or deteriorating, then they can give way under pressure. At that point, it won't matter how strong your lock is.
Personal protection
Your door lock should provide the first-line in home security, but you can't be complacent. Thieves can find ingenious ways to circumvent your home security, including the popular practice of lock snapping. You may also have lost your keys or had them stolen. Or you may just want the peace of mind in knowing that you, your family and your property are protected from outside threats and dangers.
You may be tempted to invest in an expensive home security system. The combination of cameras and alarms can provide protection, but they're mainly for use when your home is empty. It's also true that most home security users won't arm their home alarm system when they go to bed, which leaves you and your property vulnerable.
Instead of investing in expensive electrical solutions, securing your property is simpler – and cheaper – than you may think.
Our Securian MX range of door jammers provide protection from intrusion from sustained and violent attacks. Door jammers are the ultimate in door security, making it almost impossible for an intruder to force open your door and gain entry to your home.
The Securian MX-1 door jammer, for example, can withstand up to 1,000lb in attack force. In our tests, it's able to cope with the power used in a typical home intrusion attempt. The security bar slides into place in seconds and will provide peace of mind and protection for your inward opening door. It can be removed just as quickly and doesn't affect how your door opens or closes.
Alongside our secure floor plate, we also produce a range of attractive pin-door jammers. The elegantly designed Securian MX-2 pin door jammer drops into place in seconds. Once it is securely situated, it will prevent the door from being forced open by an intruder.
At under £40, our range of door reinforcement products will ensure that one those people who you trust enter your home at any time of the day or night.
Patio protection
One of the simplest ways for an intruder to access your home is through external patio doors. In many cases, the locks used on patio doors are of inferior quality or haven't been serviced or replaced. You may not be aware of the signs, but a thief will be – so don't give them the opportunity.
The Securian PX-range of patio door and sliding door security bars have been designed with your safety in mind. Designed, engineered and assembled in the UK, these low-cost, high-performance devices slot into place in seconds, and will ensure your patio doors remain safe and secure. Even under sustained assault, our tests have established that our PX-range of patio protection bars will stand up for your safety.
You won't find our Securian MX and PX range of door jammer and patio lock protection in shops or in hardware stores, but they can all be purchased directly from our website. They're all easy to fit and come with instructions and information required. We recommend that our MX door jammers are installed by a competent professional to ensure your door opens and close without any problems.
Ongoing battle
The threat of theft and home intrusion is constant, but by identifying potential weak points and investing in protection, you can keep you, your family and your colleagues safe. In most cases, the actions you take will send a strong message to criminals and a visual deterrent that makes them think twice and move on to other – easier – targets.