Asset security
Bike Security: How to secure your bike at home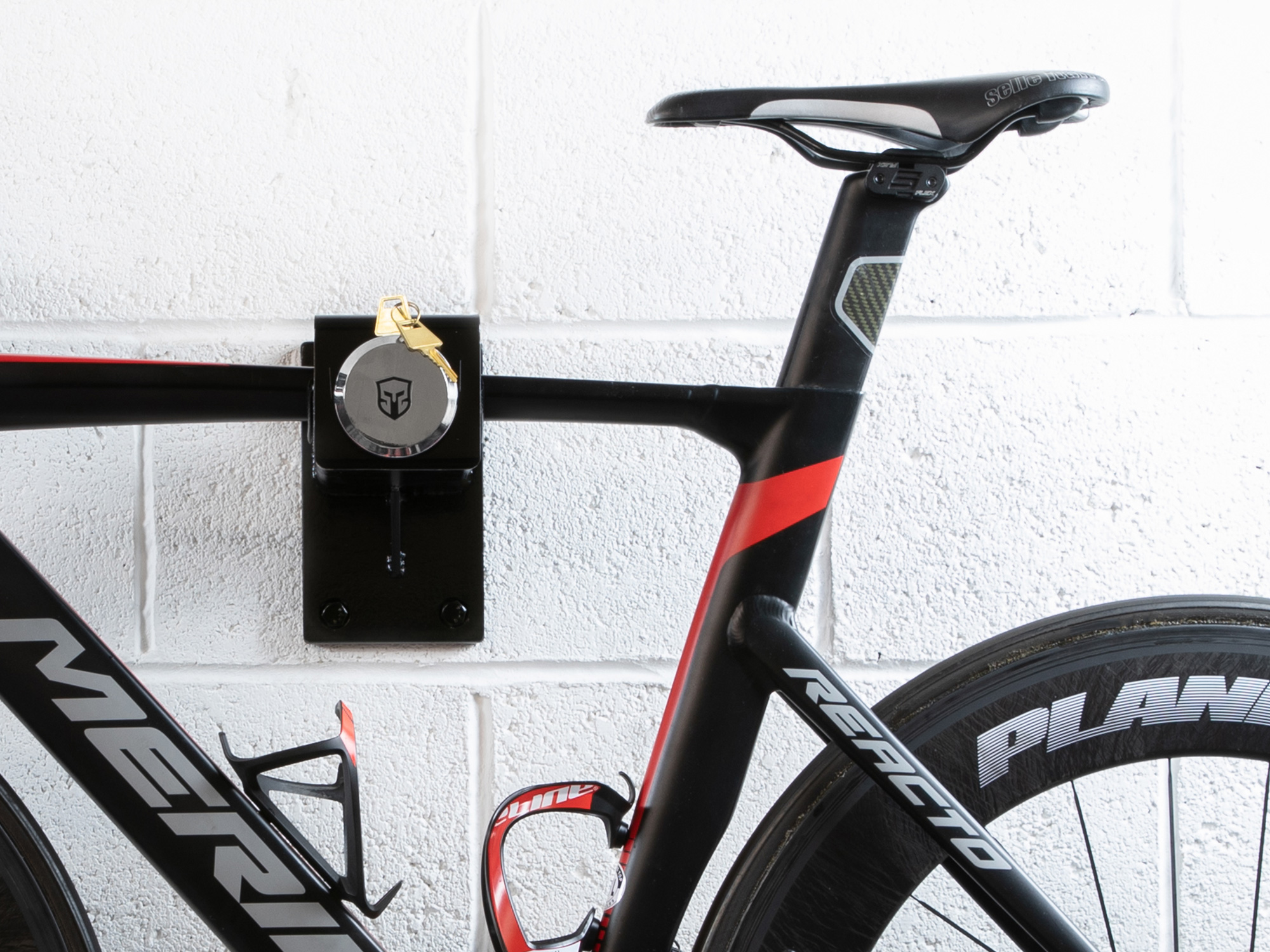 September 28, 2022
Every year, almost 80,000 bikes are stolen in the UK. While the average bike price is just over £200, many of us have bikes that cost much more, in some cases thousands of pounds. To protect your bike, you should invest in the best bike security devices you can afford. Why? Because it's cheaper and easier than replacing a stolen bike.
In this guide on how to secure your bike at home, we explore your bike security options, including suitable locks and ground and wall anchors to attach them to.
Why invest in good quality bike security equipment?
You can pick up a cheap lock for a few pounds, so why invest in an expensive one to protect your pride and joy? This is the sort of thing you'll hear once before the person wakes up to a broken lock and a missing bike. Unfortunately, the reality is that cheap bike locks can easily be broken in seconds, as this clip shows.
Give a thief enough time and the right tools, and they can break pretty much any lock available on the market, even those with a sold secure gold security rating. However, high-quality bike locks can delay and deter an opportunist thief who typically wants a quick and easy lift. As well as a lock, you'll need to fix it too. Together, they provide a total bike security system.
Investing in a bike security system will provide the highest levels of protection for your prize possession(s). It'll also avoid the pain, frustration and upset of bike theft. Finally, it could protect your home insurance premiums.
There are two pieces to a bike security system:
Bike security lock – This provides a physical and visual deterrent to any thief. You can purchase both D-Locks and flexible chains.
Ground and wall anchors – These provide a robust base to lock your bike, especially if you don't have secure bike storage.
Let's look at both parts of your bike security system in order.
Bike locks
Bike security locks do the essential job of keeping your bike secured to an object (such as a bike rack or ground or wall anchor). If you ever leave your bike in a wooden shed or garage or outside the home, you should lock it up. You have been warned!
D-Lock and Cable – D-locks have a long u-shaped metal hook that slides through your bike's frame and is secured in place with a bar. Tamper-proof cables can be threaded through the front wheel and then returned to the D-Lock, where it's secured in place.
High-quality D-Locks, such as the Securian D-Lock, are waterproof, corrosion proof and provide the highest levels of protection. When used with the Securian cable (included), the double-lock mechanism will stop even the most dedicated and determined thieves from stealing your bike. D-locks can be used to secure your bike at home and can also be thrown in a bag and used while you're out and about.
Flexible Chains – Flexible chains are, as their name suggests, hard wearing chains encased in a protected cover that can be secured to an object. Chains are connected with a key-operated padlock. Securian's flexible chain lock is heavy, hardwearing, corrosion-proof and (almost) theft-proof. The chain is designed to be used at home, providing ultimate theft protection.
A D-Lock or a flexible chain depends on where you're storing your bike. D-Locks are portable and can double up as suitable locks outside the home. Flexible chains are heavyweight protection for the house and can be used to secure almost anything, including bikes, motorbikes, caravans and trailers.
Bike ground and wall anchors
So, you've got a great quality lock, but what do you secure it to? For the best home bike security system, you should also invest in a ground or wall anchor to screw your bike to.
Anchors are solid metal pieces secured to the floor and the wall using super strong bolts. They provide an immovable object to secure your bike to. Securian's hardened steel ground anchor can be mounted on the floor or wall, which provides a solid base to lock your bike.
You can use ground and wall anchors both inside and outside your home. They're corrosion-proof and, if correctly installed, should provide years of protection.
Securian's wall-mounted bike hanger does the double job of holding your bike securely off the floor and locking it in place. The hardwearing hanger is suitable for all types of bikes, including road bikes, mountain bikes and even e-bikes. In addition, the hanger comes with an integrated lock, so you won't need to invest in another.
How much to spend on bike security at home?
The traditional rule of thumb is to spend 10% of a bike's value on security to protect it. Thankfully, with Securian, you don't need to. Instead, you can pick up a D-Lock and Cable and wall anchor for less than £100. You'll have everything you need to install your anchor and secure your bike in your home and outside.
If you're lucky enough to have a garage with solid walls, we recommend purchasing one (or more) wall hanger for ultimate accessibility and security.
Summary
If you've ever had a bike stolen, you won't need to be reminded of how inconvenient and upsetting this can be. Investing in high-quality bike protection to secure your bike at home can stop this from happening. In some cases, strong bike security measures can also help to reduce your insurance premiums. Securian produces the UK's hardest-wearing and highest quality bike security locks, and ground and wall anchors. Shop the range and buy online today.